This post may contain affiliate links which means I make a small commission if you make a purchase at no additional cost to you. See the disclosure policy for more information.
Mark is always telling me I'm an oversharer…I can't help it…life moments entertain me, and if I can entertain you by sharing our crazy life…then I'm gonna do it!! 
So here's what no one tells you about having open stairs in your home!
This is a funny story about the open stairs we built in our new home! Hope you get a chuckle out of it and of course I'll include some of my favorite open stair designs to inspire you as well! 
the design problem with open tread stairs
The amazing open staircase that Mark (my handsome hubby) built has a flaw.These L shaped stairs are stacked on top of each other so it's a straight drop from the upstairs all the way to the basement.So the problem is…when you preschooler is sleep walking and pees at the very top of the staircase…the pee falls (and splatters) all the way to the basement!!! 🤦🏻‍♀️😂🤦🏻‍♀️So we pulled out our cleaning supplies from Grove Collaborative and my faithful sidekick
DEWALT
Vacuum, Wet/Dry
!!
Nothing like cleaning the stairs at 2 am! Hahaha! Ahhh parenthood!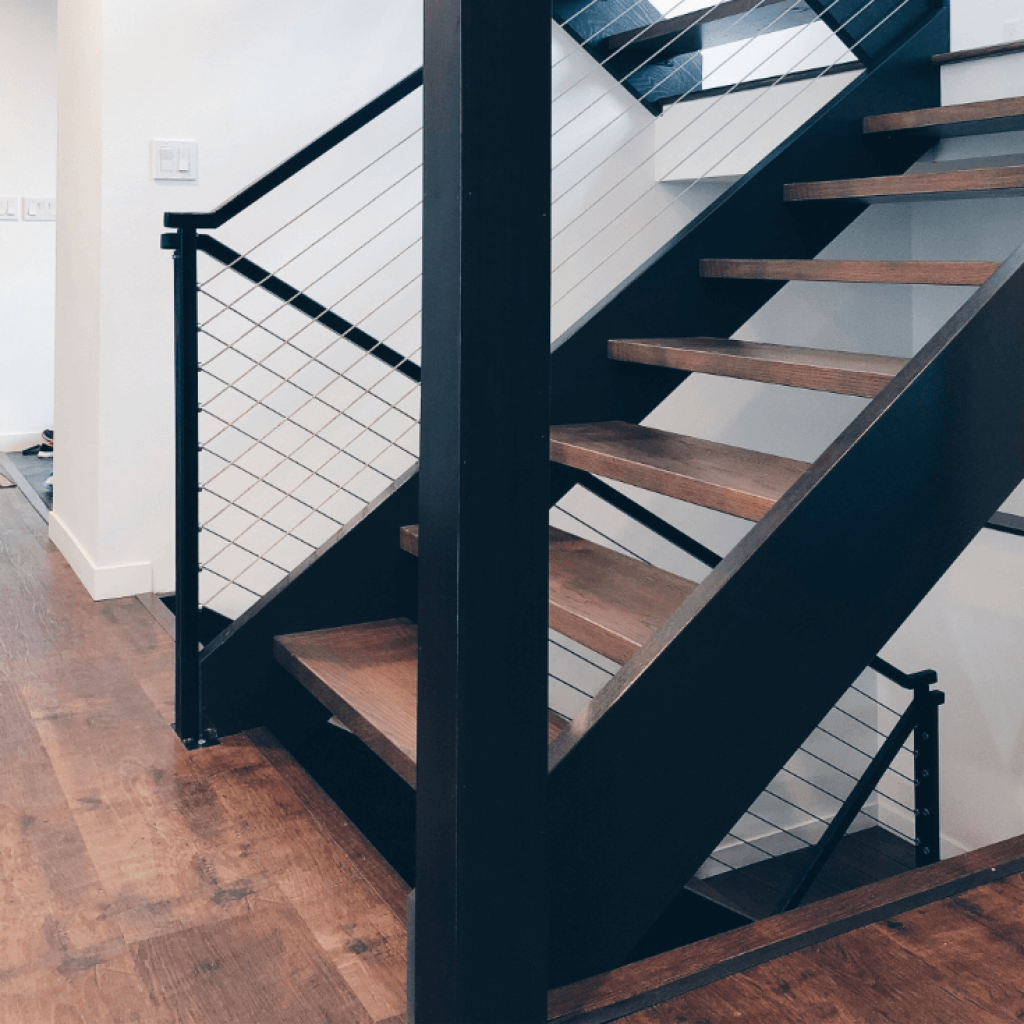 I still LOVE my staircase he built for me!! It was such a labor of love. Luckily we had incredible builders who totally supported us building our own stairs.
We sourced the wood from The Woodsmith Store, stained & sealed everything with General Finish products, Mark made the metal support brackets for each tread, built the stairs using his favorite Dewalt Tools, we sourced the metal from a local steel shop, welded all the railings, painted them matte black and finally installed the cable system from Cable Bullet .
more open stair design ideas
Here are some of my favorite open tread staircase designs to give you some inspiration!
Enjoy!!
I'm on Instagram and Pinterest everyday (and Facebook about every other)! 
So click the social buttons and come hang out with me!