Don't stress! finding the perfect floor plan for your new house is Fun!!!
When meeting your architect for the first time, it really helps to have an idea of a floor plan you like.
You DO NOT have to know every detail of your future floor plan.
Just have an idea, a starting point that will help your architect ask the right questions to iron out all the details.
Dream big, start big...you can scale it back.
It seems odd to start with a big floor plan, but it's actually easier to put all your dream "wants" into the floor plan at first, then scale it back as you need to. 
So? What features should you dream of putting in your perfect floor plan? 
Determine your "must haves", "wants" and "don't want."
It's actually just as important to know what you "don't want" as much as what you "need" and "want." 
Start by answering these Basic questions
What is my budget?
Single story or two story? 
Do I have land/lot restrictions that will determine the shape and size of my house?
Any land formations (like hills) that I want to include or avoid? (ie-if you have a good hill, you may want a walkout basement). 
Basement? 
Are there building codes I must follow or homeowner association rules? 
Attached or detached garage? How many car stalls? 
What's your lifestyle like?
Open floor plan or seperate spaces?
Young kids, active family?
Aging parents that need an "in-law suite"?
How many people will living in this house on a regular basis? 
Will they share bedrooms or need their own? 
Will everyone get their own bathroom or will some share? 
Are there any specialty rooms that are a must? (ie – office, formal dining room, exercise room)
Now that you have a basic idea of your needs, wants and don't wants, start looking online for something that fits your list.
The above floor plan is what inspired our new house. We obviously changed many things, but it helped us a lot in the beginning stages figuring out what we liked.
Just like our exercise for finding your house style, we'll do the same with floor plans. Start scrolling! There are so many great resources online for floor plans.
Remember, you're looking for something that meets your basic list. Find something, even if it's way more square footage than you're budgeted for, it can be scaled back.  
Now think about arrangement and features of rooms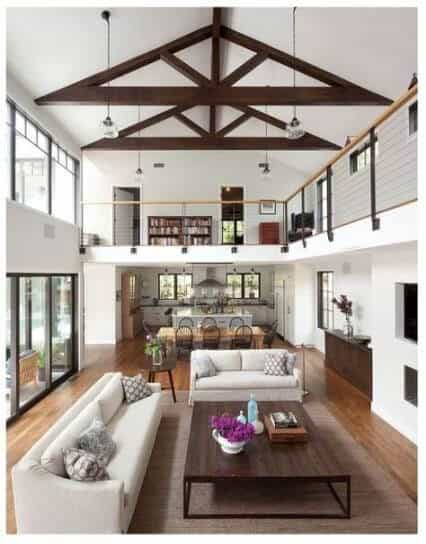 Which rooms do you want close to each other?
How about far away from one another?
For example, we knew a "must" for us was having the kitchen, living, dining and office/den area close together and very open.
This fits our family lifestyle very well, but obviously wouldn't work for everyone. Maybe in your house, you need your office on the other end of the house for more solitude while working. 
Another example is bedrooms. We have a two story house with the master bedroom on the main floor and the other two bedrooms upstairs. We're okay with this, but I know several families that are uncomfortable with kiddos' bedrooms on a seperate floor, and that's totally okay! This is the time to think about those things and decide where the best place for those rooms are. 
What special features do you need in these rooms?
Do you want it open to the living and/or dining area?
Do you need lots of prep space? 
Do you want anything in the island like a sink or stove top? 
How much cabinet space to you need? 
Will you have a pantry? 
Where will you put your microwave? (we put ours in pantry…love it!) 
Will you have an island? 
How much seating do you want around your island?
How much time do you spend in your bedroom? 
How big are your beds? 
Do you want dressers in the room or will you use a walk in closet? 
Will you attach a bathroom?
How many people will be sharing this bathroom?
Do you want a tub and a shower? 
Single or double vanity? 
Zero entry shower?
Shower door or Doorless Shower? 
Do you want a seperate laundry room or incorporate it with a mudroom? 
Covered patio?
Screened in patio? 
Office or den? 
Playroom? 
Bunker or Storm Shelter? (We live in an active tornado area, and we have a storm shelter for such a weather event.)
Media Room? 
Exercise Room? 
Finished Basement?
Windows

If you've followed me at all, you know Mark & I are completely obsessed with windows!! We have a huge window on literally every wall in our home (sometimes two)!! 
How many and how big do you want your windows? 

Ceilings

Do you want any vaults? This is pretty important to know when designing your house! Especially if you're doing a two story. 

Walls

Do you want your house as open as possible or do you prefer separate spaces? 
We took out every possible wall we could! Haha! Eventually we got to the point that our architect said, "you need A wall to hold up your house!" LoL!! That was our preference, but you may want lots of walls for your art or sound barrier. All stuff to think about!

Stairs

People don't give stairs a lot of thought, but they are a big deal.
Our old house had two separate flights of stairs right in the middle of the house. It ate up a ton of square footage and made any future remodeling very difficult.
Be very mindful of where you place your staircase! Our new home has a U-Shaped stacked staircase which doesn't eat up as much square footage. 
I hope You now have a great start to finding your perfect floor plan!!
Remember it's a process and have fun with it! You don't have to have all the answers right away, but most importantly…make it how you want it, how it will best suit your lifestyle.
I want to hear from you
I really love creating these house building articles for you.
Let me know if they're helpful at all or if you need different information.
I want to help you have a great building experience!! 
Comment below, DM on Instagram or Messenger me on Facebook; let me know how I can help you! Thanks!! 
Contact Me